Meet the Team
"I specialise in providing a replacement income in the event of death, a diagnosis of a serious illness that affects daily life and incapacitation from work. This could be a vital addition to our client's finances, helping to ensure peace of mind should the need arise."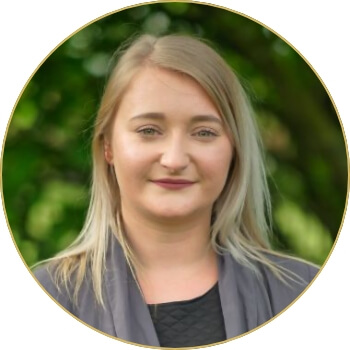 Kayleigh Madden
Protection, Wills & Trust Specialist
---
My work with Fortune Financial
I have been with the company for approximately 2 years, and I have an ever-growing passion for providing a solution to individuals and families in the UK to ensure that they have the peace of mind with their finances in the event that the worse may happen.
I have first-hand experience of the impact that having time off work, or a family member diagnosed with a serious condition, which is why I personally know how important it is to ensure that you are prepared.
My main enjoyment of my job comes from speaking to a variety of people who come from different backgrounds and building a relationship with them to understand their needs, and also as an ear to listen.
Not only that, but I also absolutely love my team and enjoy a cheeky rounders game or afternoon pub outing to get us out of the office causing trouble.
Life outside of Fortune Financial
I love to socialise with my friends, having weekends away around the UK or across the world. I love throwing myself out of my comfort zone to get the most out of every opportunity, such as Escape Rooms, Go Ape and Indoor Skydiving.
I have an amazing dog called Hugo, who is basically my fluffy baby and pulls me up the beautiful hills of Bedfordshire. In all seriousness, remaining physically fit is a massive goal for me and going for long walks with Hugo also helps keep a clear mind.
I also enjoy participating in challenges especially for a good cause, which I am excited to be taking part in Race for Life 5K and Pretty Muddy for Race for Life 5K in 2022.
Awareness for Mental Health is also a passion close to my heart, which is why our efforts around the year to raise money for Mind are so crucial. I am big on ensuring you take time for yourself and know what you are working towards, which is why I love planning for my future but also staying in the here and now and enjoying every moment with my partner, friends and family.
Inusrance Options
"Our dealing with Fortune Financial Planning Ltd has been nothing short of phenomenal. I say this because they took the time to guide us and at times educate us on issues that would benefit us. At no point did we feel on our own or uninformed."
"Mark was very knowledgeable about the products I wanted. Very professional and made the process really easy and simple. I will definitely be going back there for future help when needed and would highly recommend."
"Amazing! We had a complicated matter and they made us feel at ease at every point. Found fantastic deal you do not have access to from online searches. Can highly recommend and have already recommended to friend who's buying their first home."
Read more reviews